Cave Les Faîtières
Cave Les Faîtières
Spoken language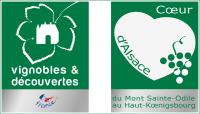 Présentation
Les Faîtières is located at the foot of the Haut Koenigsbourg castle, in the heart of the Wine Route in Orschwiller, between Saint-Hippolyte and Kintzheim.

Authenticity and a union of talents are our watchwords. The Haut Koenigsbourg terroir means that we are firmly rooted in the region, with a group of winegrowers who have been sharing the same know-how for 3 generations. Our 140 hectares of vines spread over the 3 communes allow us to offer the best of the terroirs through our wines, while respecting the environment. Our commitment to respecting the environment has enabled us to obtain HVE (High Environmental Value) certification from the 2019 vintage.

One of our strong points is our ability to offer wines that reflect the tastes of the day, and whose quality has been recognised at various competitions: Gold Medal Paris, Mâcon, Colmar, Best Sparkling Wines in the World... Also the Prix d'Excellence at the Concours Général Agricole de Paris, which only confirms the expertise of this #UnionofTalents.
Type de viticulteur
Cooperative cellar , Charte CIVA
Description de la cave
Wooden barrels , Modern barrels , Modern cellar , Old cellar , Old wine press
Type de vins
Alsace AOC , Alsace Grands Crus AOC , Crémant d'Alsace AOC , AOC Alsace Coteaux du Haut-Koenigsbourg , AOC Rouge de Saint Hippolyte , AUxerrois , Edelzwicker , Gewurtztraminer , Muscat , Pinot noir , Pinot blanc , Pinot gris , Riesling , Sylvaner , Selection of Grains Nobles , Late Harvest
Liste des grands crus
Praelatenberg
Label des produits en vente
Transitioning to organic farming , , , Label HVE (Haute Valeur Environnementale)
Prices
Moyens de paiement
Credit card , Cheque , Cash
Date
From 02/01/2023 to 31/12/2023
Ouvert le Sunday de 10:00 à 12:00
Ouvert le Sunday de 14:00 à 18:00
From 12/11/2023 to 24/12/2023
Ouvert le Monday Tuesday Wednesday Thursday Friday Saturday de 09:00 à 12:00
Ouvert le Monday Tuesday Wednesday Thursday de 13:00 à 18:30
Ouvert le Friday Saturday de 13:00 à 19:00
From 27/12/2023 to 31/12/2023
Ouvert le Monday Tuesday Wednesday Thursday Friday Saturday de 09:00 à 12:00
Ouvert le Monday Tuesday Wednesday Thursday de 13:00 à 18:30
Ouvert le Friday Saturday de 13:00 à 19:00
From 02/01/2024 to 28/03/2024
Ouvert le Monday Tuesday Wednesday Thursday Friday Saturday de 09:00 à 12:00
Ouvert le Monday Tuesday Wednesday Thursday de 13:00 à 18:30
Ouvert le Friday Saturday de 13:00 à 19:00
From 02/01/2024 to 24/12/2024
Ouvert le Sunday de 10:00 à 12:00
Ouvert le Sunday de 14:00 à 18:00
The 29/03/2024
Ouvert le Friday de 10:00 à 12:00
Ouvert le Friday de 14:00 à 18:00
From 30/03/2024 to 31/03/2024
Ouvert le Monday Tuesday Wednesday Thursday Friday Saturday de 09:00 à 12:00
Ouvert le Monday Tuesday Wednesday Thursday de 13:00 à 18:30
Ouvert le Friday Saturday de 13:00 à 19:00
The 01/04/2024
Ouvert le Monday de 10:00 à 12:00
Ouvert le Monday de 14:00 à 18:00
From 02/04/2024 to 30/04/2024
Ouvert le Monday Tuesday Wednesday Thursday Friday Saturday de 09:00 à 12:00
Ouvert le Monday Tuesday Wednesday Thursday de 13:00 à 18:30
Ouvert le Friday Saturday de 13:00 à 19:00
From 01/05/2024 to 08/05/2024
Ouvert le Wednesday de 10:00 à 12:00
Ouvert le Wednesday de 14:00 à 18:00
From 02/05/2024 to 07/05/2024
Ouvert le Monday Tuesday Wednesday Thursday Friday Saturday de 09:00 à 12:00
Ouvert le Monday Tuesday Wednesday Thursday de 13:00 à 18:30
Ouvert le Friday Saturday de 13:00 à 19:00
The 09/05/2024
Ouvert le Thursday de 10:00 à 12:00
Ouvert le Thursday de 14:00 à 18:00
From 10/05/2024 to 19/05/2024
Ouvert le Monday Tuesday Wednesday Thursday Friday Saturday de 09:00 à 12:00
Ouvert le Monday Tuesday Wednesday Thursday de 13:00 à 18:30
Ouvert le Friday Saturday de 13:00 à 19:00
The 20/05/2024
Ouvert le Monday de 10:00 à 12:00
Ouvert le Monday de 14:00 à 18:00
From 21/05/2024 to 13/07/2024
Ouvert le Monday Tuesday Wednesday Thursday Friday Saturday de 09:00 à 12:00
Ouvert le Monday Tuesday Wednesday Thursday de 13:00 à 18:30
Ouvert le Friday Saturday de 13:00 à 19:00
From 15/07/2024 to 14/08/2024
Ouvert le Monday Tuesday Wednesday Thursday Friday Saturday de 09:00 à 12:00
Ouvert le Monday Tuesday Wednesday Thursday de 13:00 à 18:30
Ouvert le Friday Saturday de 13:00 à 19:00
The 15/08/2024
Ouvert le Thursday de 10:00 à 12:00
Ouvert le Thursday de 14:00 à 18:00
From 16/08/2024 to 31/10/2024
Ouvert le Monday Tuesday Wednesday Thursday Friday Saturday de 09:00 à 12:00
Ouvert le Monday Tuesday Wednesday Thursday de 13:00 à 18:30
Ouvert le Friday Saturday de 13:00 à 19:00
The 01/11/2024
Ouvert le Friday de 10:00 à 12:00
Ouvert le Friday de 14:00 à 18:00
From 02/11/2024 to 10/11/2024
Ouvert le Monday Tuesday Wednesday Thursday Friday Saturday de 09:00 à 12:00
Ouvert le Monday Tuesday Wednesday Thursday de 13:00 à 18:30
Ouvert le Friday Saturday de 13:00 à 19:00
The 11/11/2024
Ouvert le Monday de 10:00 à 12:00
Ouvert le Monday de 14:00 à 18:00
From 12/11/2024 to 24/12/2024
Ouvert le Monday Tuesday Wednesday Thursday Friday Saturday de 09:00 à 12:00
Ouvert le Monday Tuesday Wednesday Thursday de 13:00 à 18:30
Ouvert le Friday Saturday de 13:00 à 19:00
From 27/12/2024 to 31/12/2024
Ouvert le Monday Tuesday Wednesday Thursday Friday Saturday de 09:00 à 12:00
Ouvert le Sunday de 10:00 à 12:00
Ouvert le Monday Tuesday Wednesday Thursday de 13:00 à 18:30
Ouvert le Friday Saturday de 13:00 à 19:00
Ouvert le Sunday de 14:00 à 18:00
Performance
Formules de visites
Visit with educational sheets/pack , Guided tour for individuals , Guided tour for individuals with reservation , Guided tour for groups , Guided tour for groups with reservation
Prestations proposées
Paid tasting for groups , free tasting , Cellar visit , Vineyard visit for groups , Vineyard tour
Services +
Commodités / services annexes
Air conditioned site , Toilets
A proximité
Cave Les Faîtières
3 et 4a Route du Vin, 67600 Orschwiller