Alsace Frey-Sohler
Photos
Alsace Frey-Sohler
03 88 82 57 11
Spoken language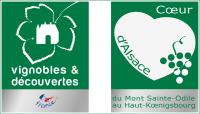 Présentation
The Frey-Sohler estate has evolved through several generations, all intimately linked with Scherwiller and the wines of Alsace. Currently occupying 29 hectares.

It is included within the "Scherwiller" Appellation Communale, and runs across the rocky slopes of the Rittersberg, at the foot of the imposing Château de l'Ortenbourg, which looks down upon these magnificent vineyards.

All our barrels and vats are equipped with temperature controls. The grape juice is allowed to settle cold, and the temperature of the fermentation process is electronically monitored from start to finish. During bottling operations, the corking machine operates under vacuum, and the bottles are conveyed along a storage table to ensure optimum corking and a wine that keeps very well.
During the period of confinement, the Frey-Sohler family welcomes you with a telephone appointment in advance and offers free home delivery within a 30-km radius of Scherwiller.
Type de viticulteur
Synvira , Winegrowers traders , Charte CIVA
Description de la cave
Modern cellar , Modern barrels , Wooden barrels
Type de vins
Alsace AOC , Alsace grands crus AOC , Crémant d'Alsace AOC , AOC Scherwiller , AUxerrois , Edelzwicker , Gewurtztraminer , Muscat , Pinot noir , Pinot blanc , Pinot gris , Riesling , Sylvaner , Selection of Grains Nobles , Late Harvest
Liste des grands crus
Frankstein
Label des produits en vente
, , Product of Organic Farming , Welcome to the farm , TerraVitis , Label HVE (Haute Valeur Environnementale)
Prices
Moyens de paiement
Credit card , Cheque , Cash , Transfer
Date
Horaires durant les vendanges
Monday to Friday 8am to 12pm and 1pm to 7pm, Saturday until 6pm. Sundays from May to December 10am to 12pm and 2pm to 6pm
From 16/08/2021 to 31/10/2021
Ouvert le Monday Tuesday Wednesday Thursday Friday Saturday de 08:00 à 12:00
Ouvert le Sunday de 10:00 à 12:00
Ouvert le Saturday de 13:00 à 18:00
Ouvert le Monday Tuesday Wednesday Thursday Friday de 13:00 à 19:00
Ouvert le Sunday de 14:00 à 18:00
From 02/11/2021 to 10/11/2021
Ouvert le Monday Tuesday Wednesday Thursday Friday Saturday de 08:00 à 12:00
Ouvert le Sunday de 10:00 à 12:00
Ouvert le Saturday de 13:00 à 18:00
Ouvert le Monday Tuesday Wednesday Thursday Friday de 13:00 à 19:00
Ouvert le Sunday de 14:00 à 18:00
From 12/11/2021 to 24/12/2021
Ouvert le Monday Tuesday Wednesday Thursday Friday Saturday de 08:00 à 12:00
Ouvert le Sunday de 10:00 à 12:00
Ouvert le Saturday de 13:00 à 18:00
Ouvert le Monday Tuesday Wednesday Thursday Friday de 13:00 à 19:00
Ouvert le Sunday de 14:00 à 18:00
From 27/12/2021 to 31/12/2021
Ouvert le Monday Tuesday Wednesday Thursday Friday Saturday de 08:00 à 12:00
Ouvert le Sunday de 10:00 à 12:00
Ouvert le Saturday de 13:00 à 18:00
Ouvert le Monday Tuesday Wednesday Thursday Friday de 13:00 à 19:00
Ouvert le Sunday de 14:00 à 18:00
Performance
Formules de visites
Free visit , Guided tour for individuals , Guided tour for individuals with reservation , Guided tour for groups , Guided tour for groups with reservation
Prestations proposées
Visite de cave , Free tasting for groups , free tasting , Vineyard visit for groups
Services +
Commodités / services annexes
Air conditioned site
A proximité
Alsace Frey-Sohler
72 rue de l'Ortenbourg, 67750 Scherwiller